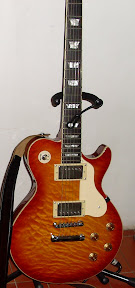 I wrote it elsewhere, but I think I should post it here too. I just got a new guitar, my 4th guitar. It's a Gibson Les Paul-look like. It's actually a Greg Bennett guitar. In the store I was toying between two guitars. One is a Fender strat-like and the other one is this.
Finally, I decided to take this guitar just because I want to experiment with the humbucker pickup. My other guitar, a Yamaha, has single coil pickup. I was told that single coil pickup is good for clean sound and it does. But my playing style (and sound) is more suitable to this guitar. We'll see how it goes.
I am going to give it a try in a gig next month.
Welcome, my new guitar.