I like to study in a (little) noisy environment. For some (strange?) reasons, I feel that I am getting more if I do my work in public places. At home or places, where it's quiet, I am thinking of sleeping all the time. Ha ha ha.
So what do I do? Well, I usually head down to Starbucks in Ciwalk or Bandung Super Mall (BSM). Yeah, many friends tease me of too much Starbucks (and not going to traditional coffeeshops). The thing is, I am not only looking for the cofffee alone, but I also want the environment. In those Starbucks premises, I could read books, reports, presentation materials, and other stuff. I got my reading "work" done.
Here's an example of a photo taken at Starbucks Bandung Super Mall.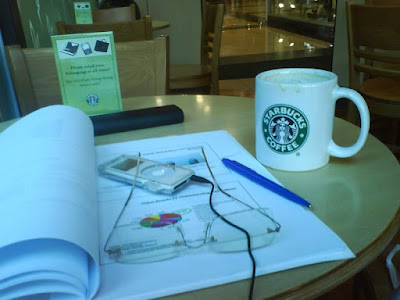 Yup, an iPod is with me all the time.
So, Starbucks lovers, if you're in Bandung you'll feel at home. There are plenty of Starbucks outlets.
By the way, I don't work for Starbucks. I hope they'll give me a free supply of coffee latte for this endorsment. Ha ha ha. A year supply would be nice. Ah, stop it!