This morning (and tomorrow), I am giving a presentation on IT Outsourcing. We looked at the landscape - looked at Wipro, Infosys, Tata, trend in China, (call center in) Phillipines, Vietnam, and what not. We evaluated why companies outsource (their IT).
There was a question about Indonesia's postion in IT outsourcing. Well, we are not know in the world (yet), but there are some IT outsourcing companies. (I happen to run a small one :) ). We're in a different league, though. We then have the following chart to show our position: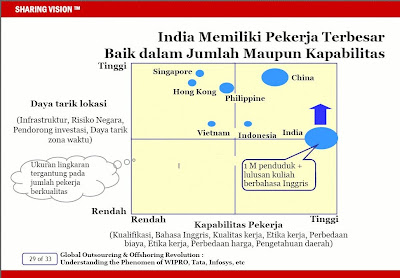 (The text is in Bahasa Indonesia. I just took a snapshot of the page.)
In terms out positioning, I believe that Indonesia should focus on the "art" portion of IT. We are very different with the rest of the pack in terms of art (and taste?). At least, that's my gut feeling. (I rarely wrong. ha ha ha.) There's a longer story about this focus, but I have to find more time to write it down. It is easier for me to tell it in front of people. Maybe in my next presentation? We'll see.
Anyway ... I hope this could satisfy your question about Indonesia's IT outsourcing. (Err... I think you have more questions after reading this. Ha!) Until next time.